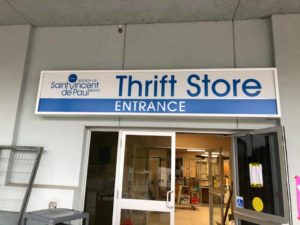 Location –143 Wellington St. (at Clarence) in Brantford, Ontario
Hours of Operation
Shopping – Tuesday, Thursday, Friday AND Saturday, 10 a.m. to 2:30 p.m.
Non-furniture, non-perishable food, hygiene product, plastic bags and gently used reusable bag donations – Wednesday AND Saturday 9 a.m. to 12 noon.
Furniture donations are accepted by emailing ssvpbrant@gmail.com with a picture of the furniture.
Phone – 519-751-0143
The location serves as a centre for collection and sorting of donations as well as a distribution centre. Food, clothing, household items and furniture are provided free to those who have been assessed in meetings with Society volunteers (Vincentians). Revenue from the sale (at modest prices) of excess donations is used to support conference work, to purchase non-perishable food to give to our neighbours in need and to pay expenses to keep the business open.