What – We've moved!
Why – more space, better parking and donation drop off facility, newer building, equally  convenient location
Where – 143 Wellington at Clarence (formerly the Crosby Cable YMCA)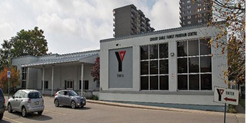 When – fall 2018
Our goal leading up to the move – uninterrupted service to our neighbours in need (at our former location at 197 Colborne St.) DONE!!

Our goal in making the move – enhanced service for our neighbours in need
For more details read:
Moving day is fast approaching! – Society of Saint Vincent de Paul (ssvpbrant.ca)
FINALLY – The opening of our new Thrift Store! – Society of Saint Vincent de Paul (ssvpbrant.ca) and