By Peter Giordano, SSVP Brant VP (Youth)
Note: This article is best read while playing Whitney Houston's "The Greatest Love" in the background.
♪♫♬  …I believe the children are our future…  ♪♫♬
Whitney Houston's beautiful silky voice from her 1985 hit "The Greatest Love" dances through my head as I reflect upon the wonderful charitable works our youth have engaged in over the past year.
Our model here in Brant revolves around a strong relationship between the Brant Haldimand Norfork Catholic District school board and SSVP Brant. The match, with intertwining goals, is a perfect one for so many reasons. Under the leadership of amazingly talented and creative principals and teachers as club advisors, the schools have formed social justice clubs or teams.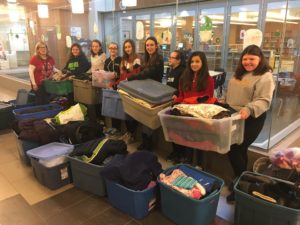 ♪♫♬…..Teach them well and let them lead the way… ♪♫♬
With names like "The Avengers for Christ", "The Social Justice League", and "Pups for Christ", students in these clubs learn about the inequities and injustices that exist in our society. With the expert guidance of their teachers, team members learn to feel empathy with those most disadvantaged amongst us. Through their experiences and creative brainstorming for solutions, the students come to feel empowered as they be
gin to take on leadership positions within the school with the strong singular goal of helping those in need.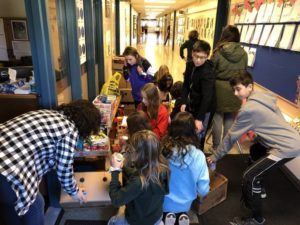 ♪♫♬…Show them all the beauty they possess inside… ♪♫♬
With the energy, enthusiasm and creativity that comes with their youth, these teams organized all sorts of fun-filled Advent activities this past season. Some schools ran very successful "Tree of Warmth" campaigns, generating a very large quantity of coats, hats, scarves, boots, mitts etc. The students in a high school Social Justice class all learned how to knit, and ran a "Knitting for the Needy" campaign that saw them creating all manner of warm knitted goods not only for our local neighbours in need, but also items to be sent to Guatemala.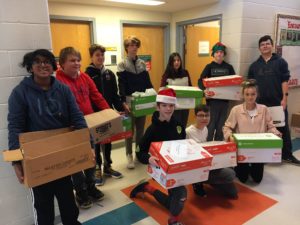 In one school, the staff and students sold tickets to parents who wanted prime seating for the Christmas concert. The owners of the winning tickets got a chance to sit up front to view the concert, and the proceeds were forwarded to SSVP Brant. Some schools ran a "12 Days of Christmas" campaign where each day had a different theme. For example one day was Ugly Christmas Sweater day, another day was Christmas Hat Day, yet another day Pyjama Day etc. etc.  For each of the themed days, students brought in either food/clothing items or monetary donations. All of their drives were met with resounding success!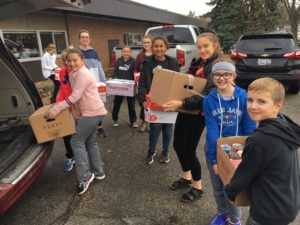 ♪♫♬…Give them a sense of pride to make it easier… ♪♫♬
There were too many activities for me to mention in this article. It is an understatement to say that we were absolutely overwhelmed with the kindness, generosity, and wholehearted support. The students gained a sense of great pride and accomplishment through their hard work, and saw their self-confidence grow as they discovered they truly have the power to make a positive difference in the world. Now that is empowerment!
As we look forward to the future we hope that these early experiences will help form the basis of a lifetime of empathy, generosity, understanding and gratitude …and THAT is worth singing about!
♪♫♬…Let the children's laughter… remind us how we used to be… ♪♫♬